New features for 2022 on the HUSK-E adaptive bike
NEW: Strength-saving version HUSK-E Neodrives
This HUSK-E version with 40 Nm torque is designed for touring in flat to hilly terrain (without long climbs). The immediate response when setting off and the constant support offer a great advantage for strength-impaired users. The long-running support, among other things, enables effortless travel. A speed of up to 6 km/h can be achieved using the starting aid without pedalling.
The neodrives hub motor is gearless, which results in completely silent and vibration-free operation. The rechargeable battery offers a range of up to 75 km. The range can be increased by up to 10% through recuperation.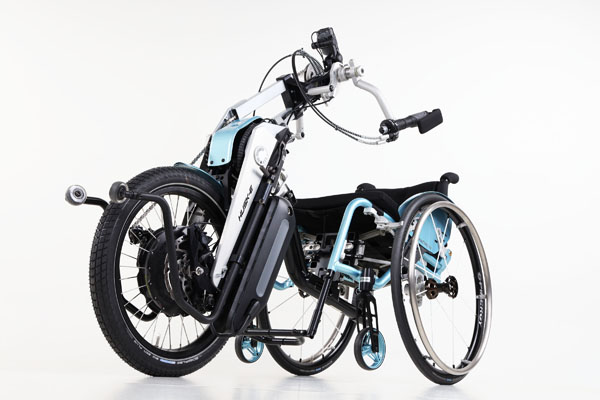 Through the incorporation of the Neodrives drive system, the HUSK-E is offered in two model variants:
Powerful HUSK-E EP8 version (85 Nm)
Designed for uneven terrain, hills, climbs and challenging routes
For users with reduced strength and greater impairments and for everyone who needs a powerful drive for a strong helping hand that can be accessed at any time
HS version for best possible response behaviour
Dérailleur and hub gear systems are possible
Disk brakes can be implemented with a brake lever or a back-pedal disk brake
Strength-saving version HUSK-E neodrives (40 Nm)
Designed for flat to hilly terrain without long climbs
For riders with little muscle power as well as for all those who need a drive with high power assistance
Pinion gear shift
Disk brakes can be implemented with a brake lever or a back-pedal disk brake
Note: The HUSK-E E6100 version is not applicable.
Pinion gear shift
The 6 or 9 speed Pinion gear shift uses a grip shift. These gears are protected against dirt and water with a closed housing and are therefore low-maintenance.
The fine, even gradations of the gears with a high transmission range mean smoother handling, as it is always possible to drive in the right gear. The option to shift while stationary provides safe handling. If you need to stop before a traffic light or on a slope, you can shift to the lowest gear while stationary, allowing an easier start-up.