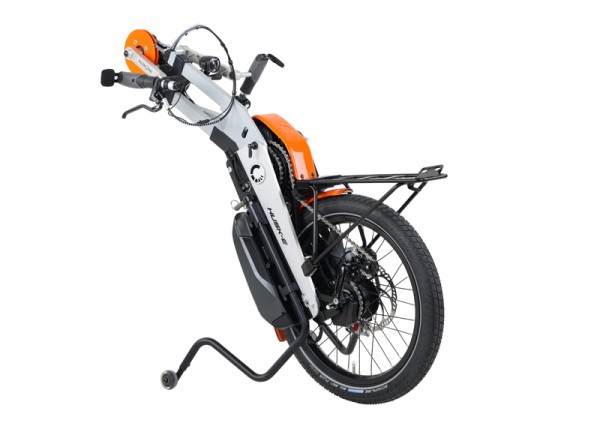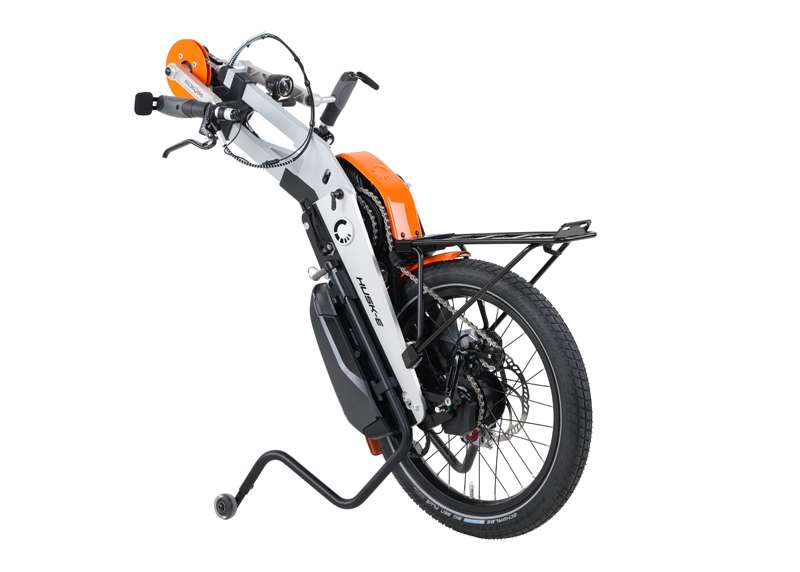 HUSK-E EP8 | hub gear | removable luggage rack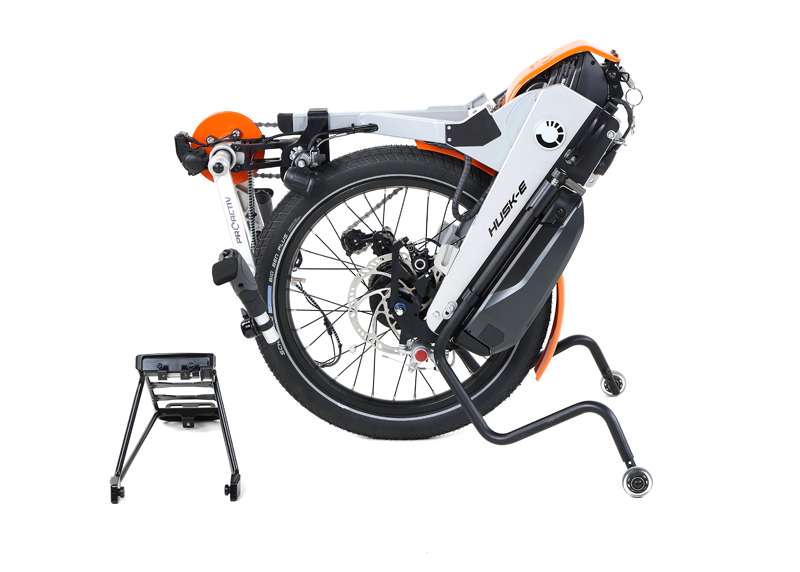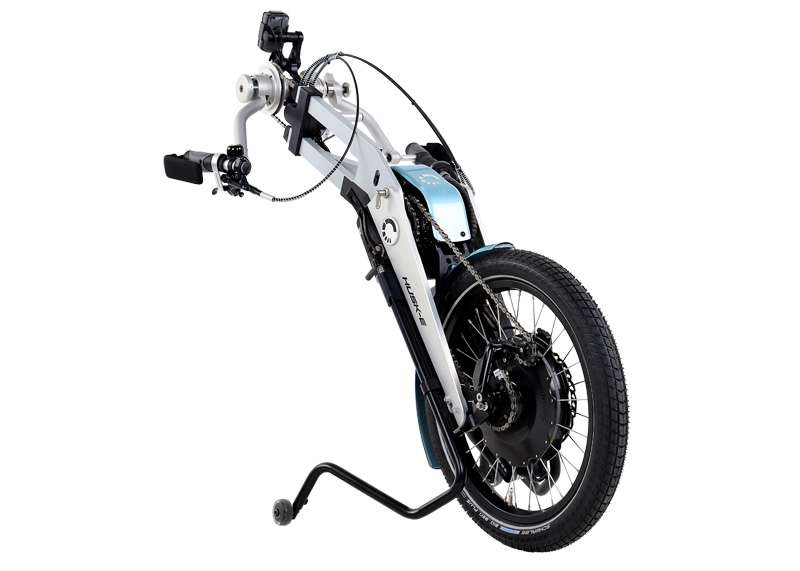 HUSK-E Neodrives | Pinion Gear shift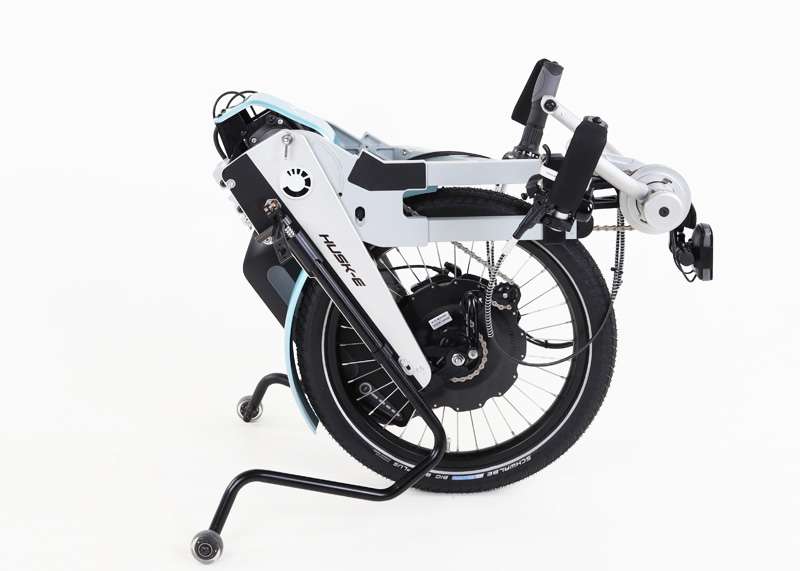 HUSK-E Neodrives | Pack size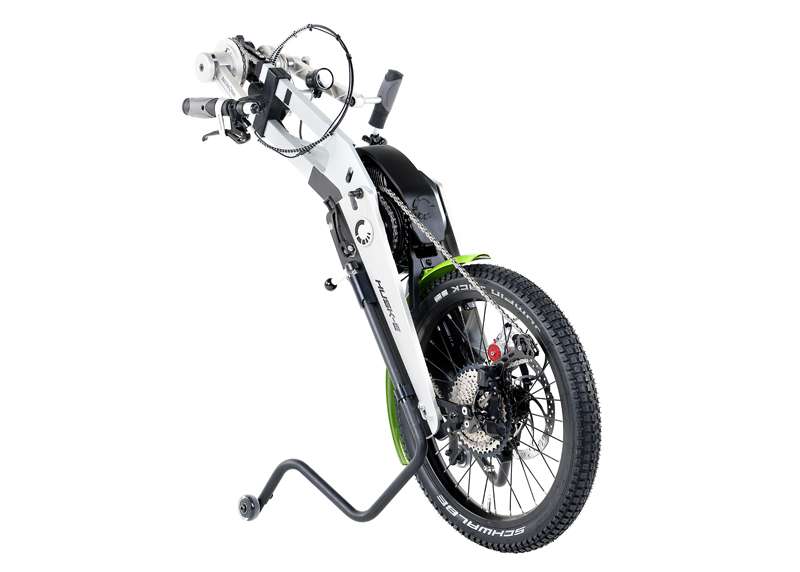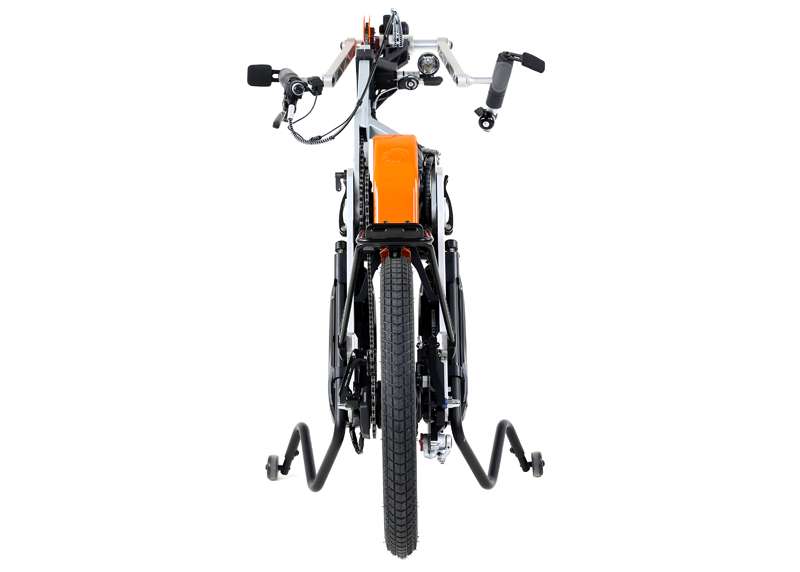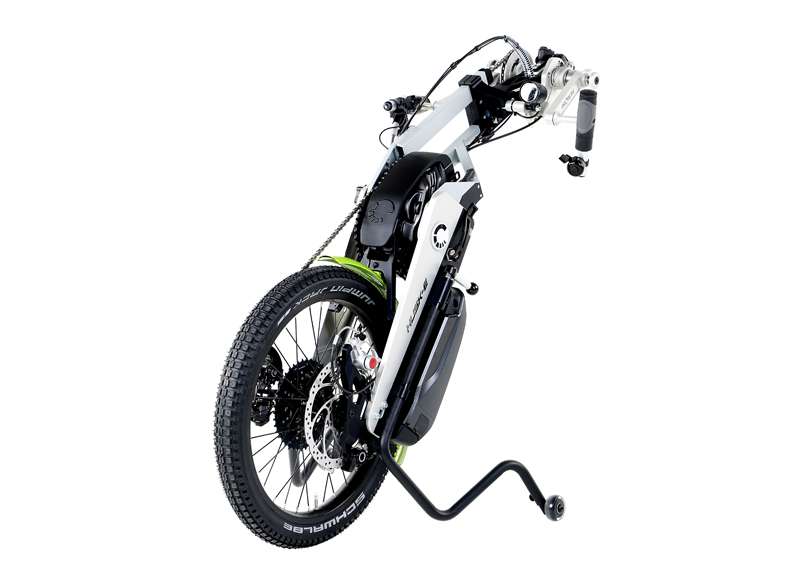 Video on folding away and adjusting the angle of the bottom bracket support for the HUSK-E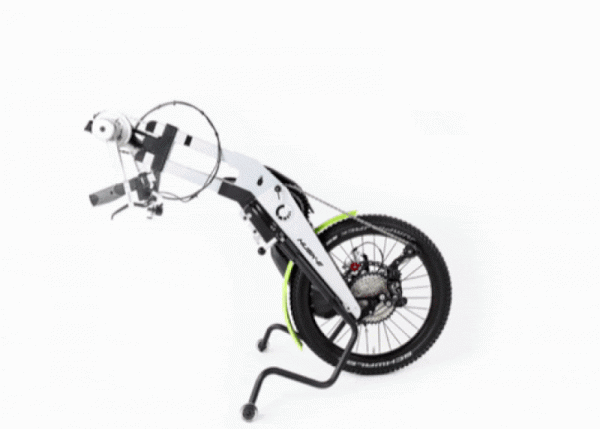 Angle adjustment for the bottom bracket support and pack size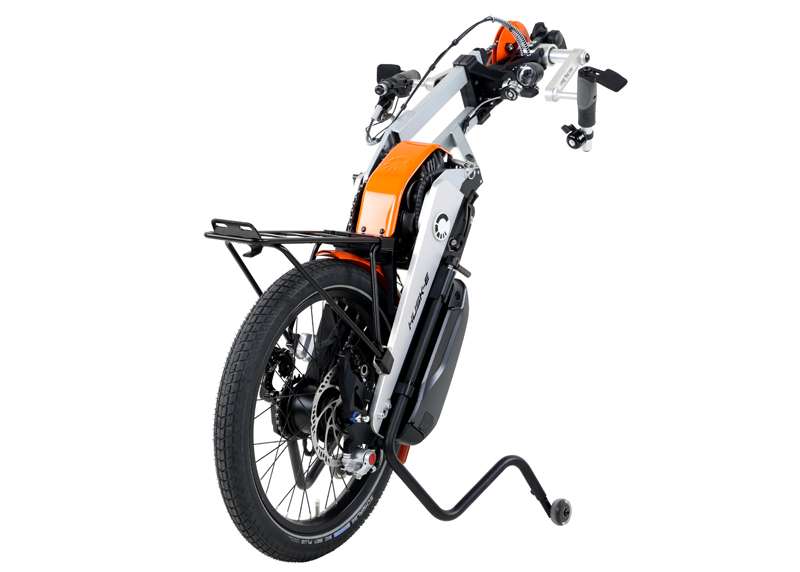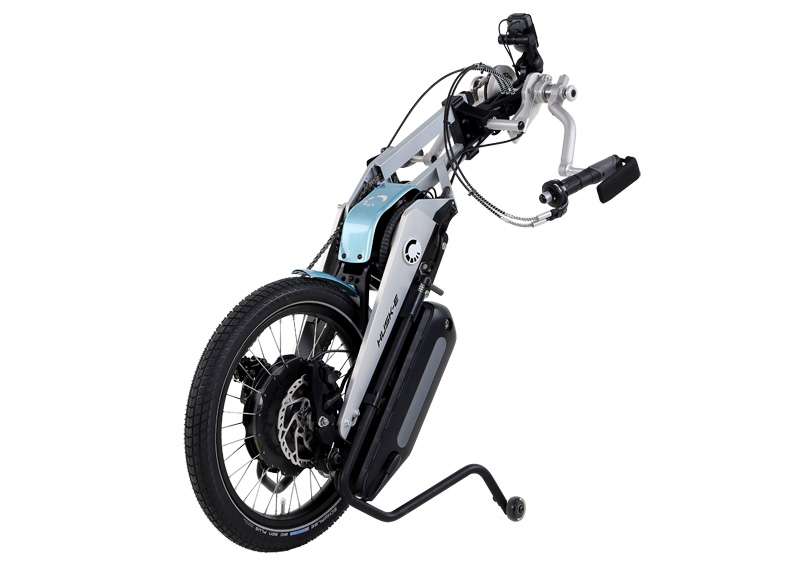 HUSK-E Neodrives | Pinion Gear shift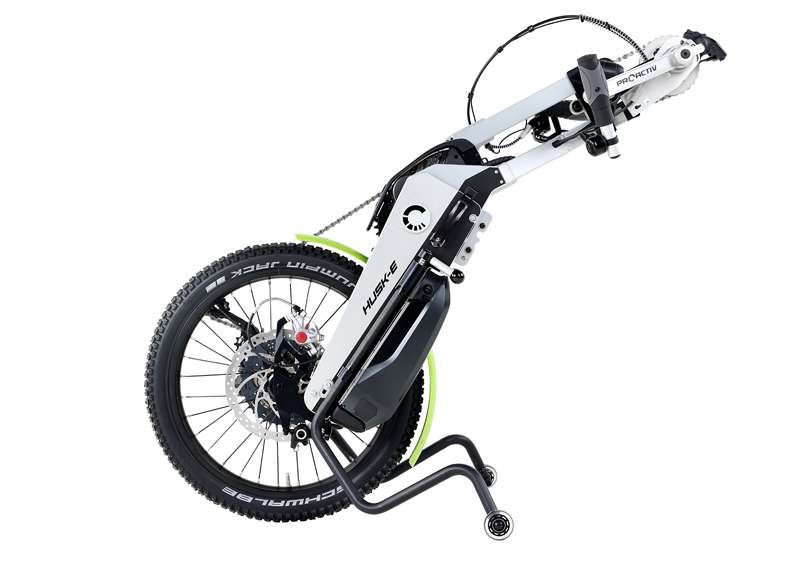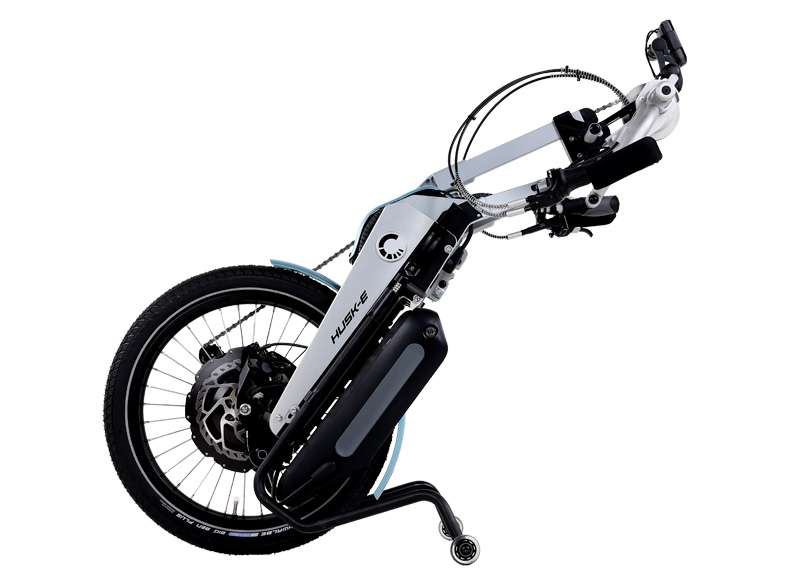 HUSK-E Neodrives | Pinion Gear shift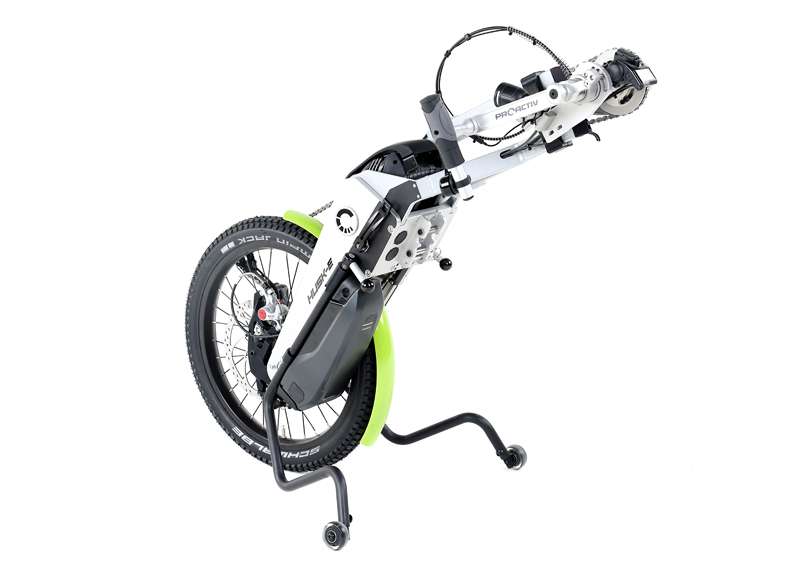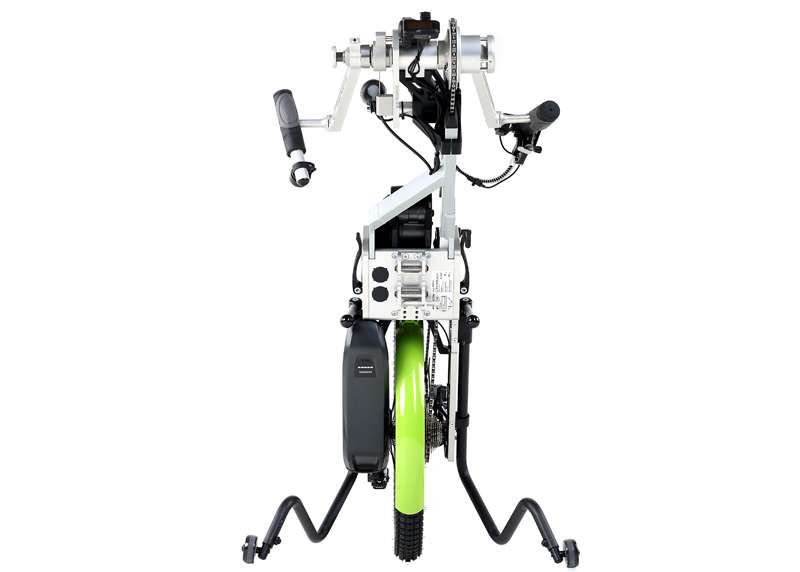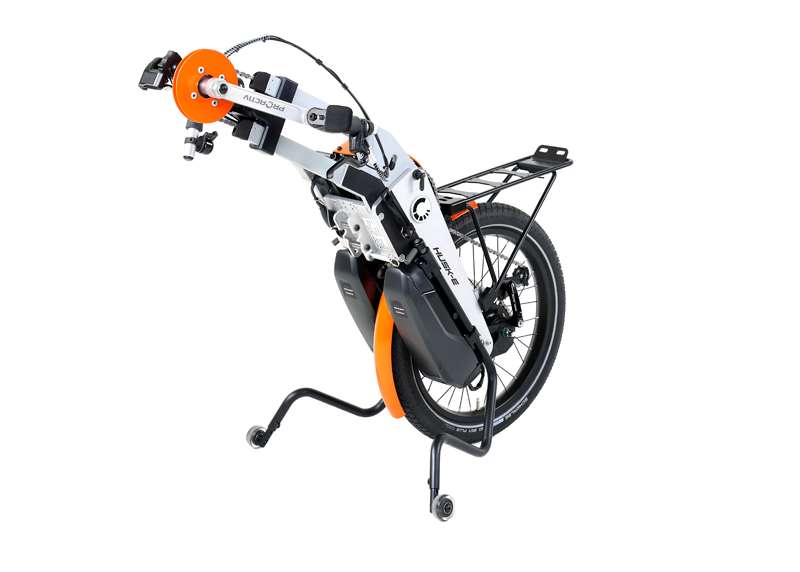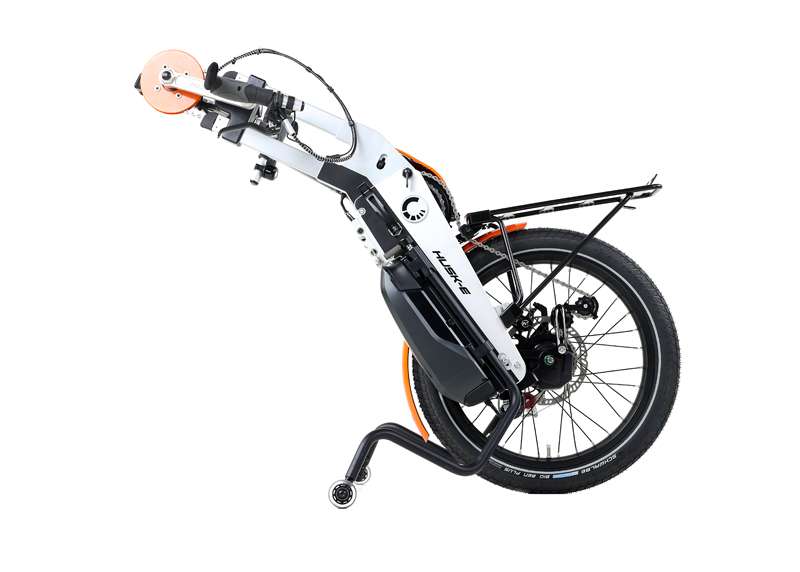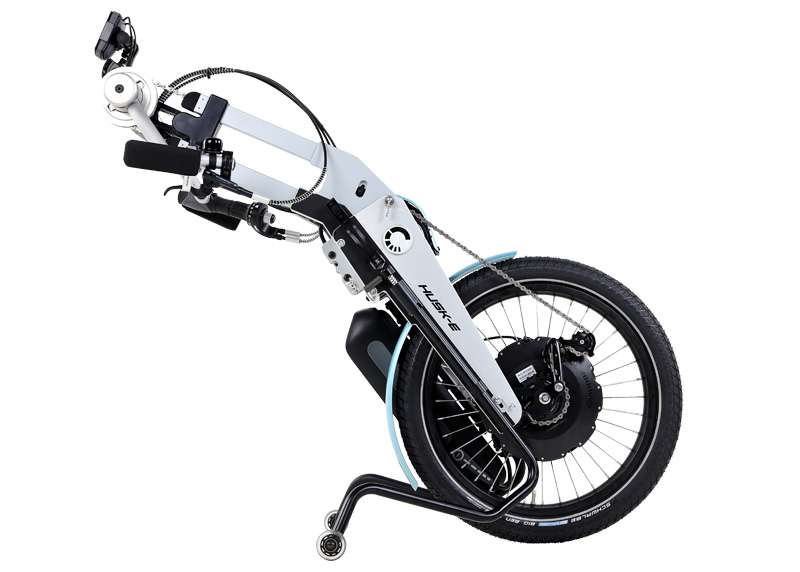 HUSK-E Neodrives | Pinion Gear shift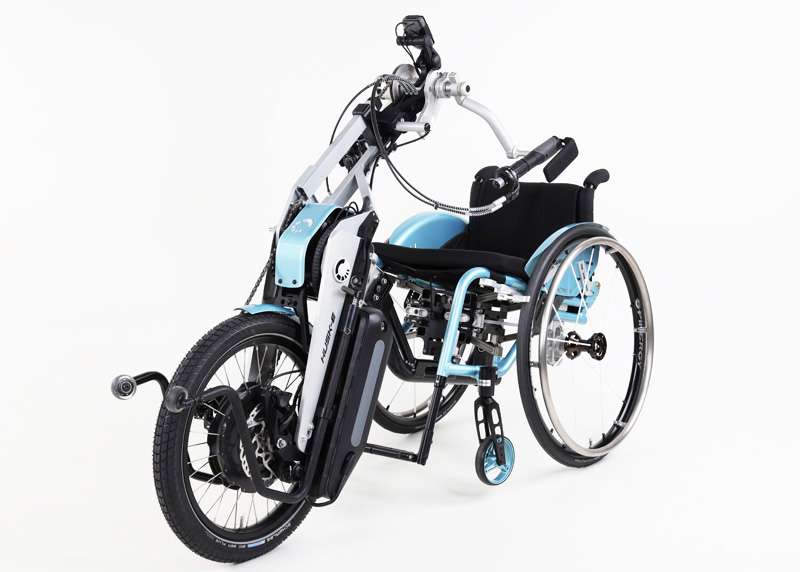 HUSK-E Neodrives | Pinion Gear shift | with TRAVELER 4you Ergo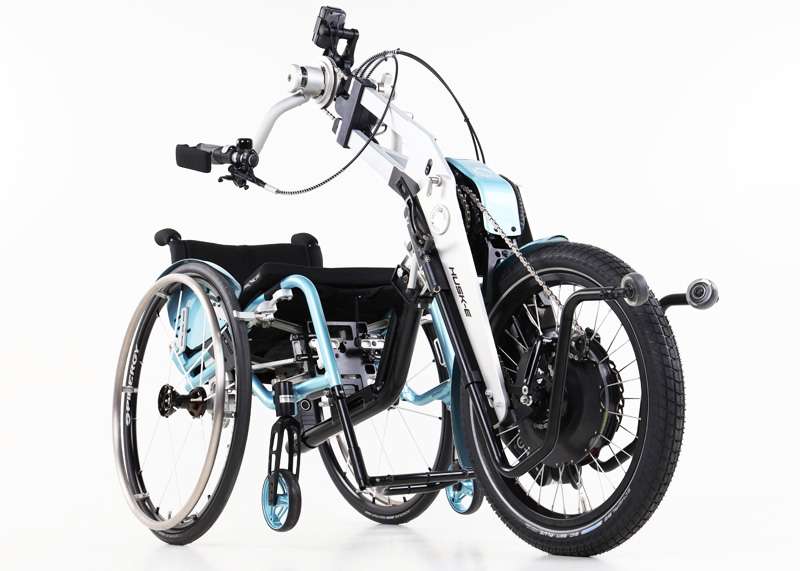 HUSK-E Neodrives | Pinion Gear shift | with TRAVELER 4you Ergo
Video: Unterwegs mit dem HUSK-E neodrives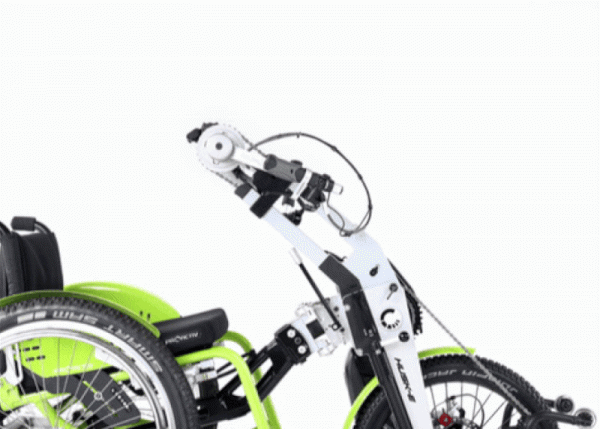 Angle adjustment of the bottom bracket support for entry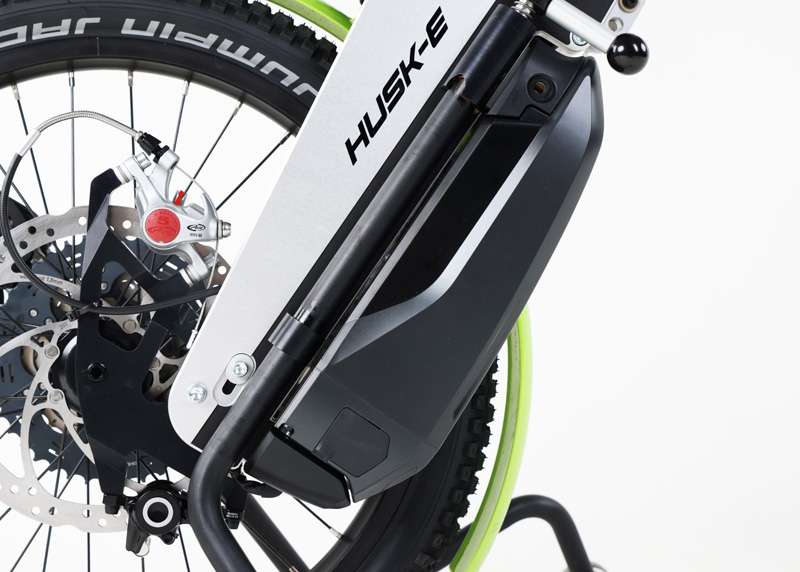 HUSK-E EP8 | 504 Wh rechargeable battery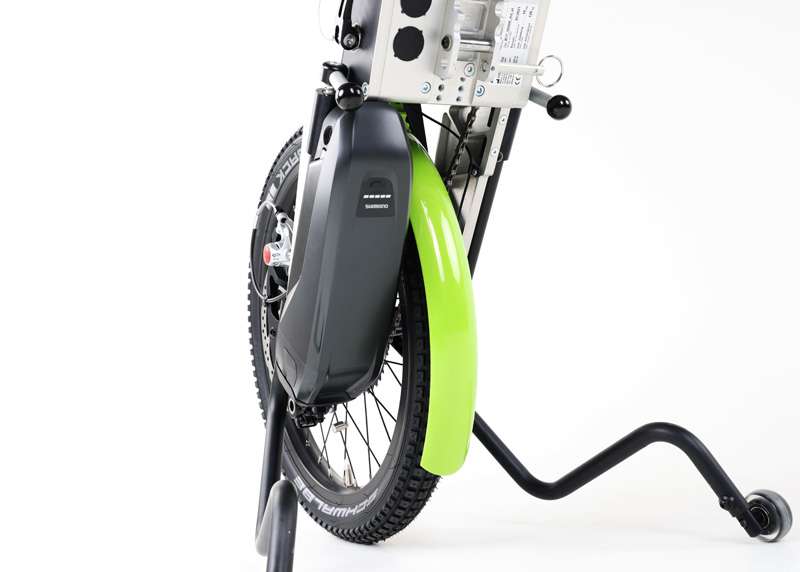 HUSK-E EP8 | 504 Wh rechargeable battery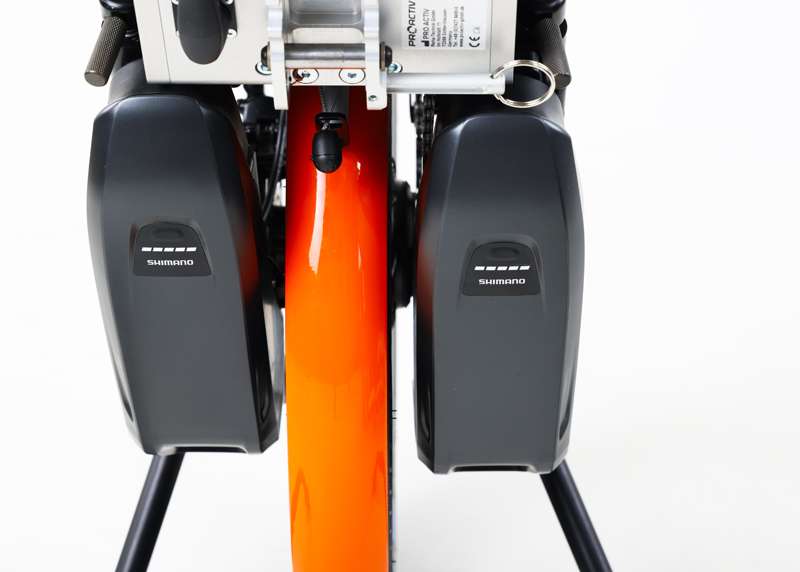 HUSK-E EP8 | Double battery bracket
Rechargeable battery removal & attachment with the double battery bracket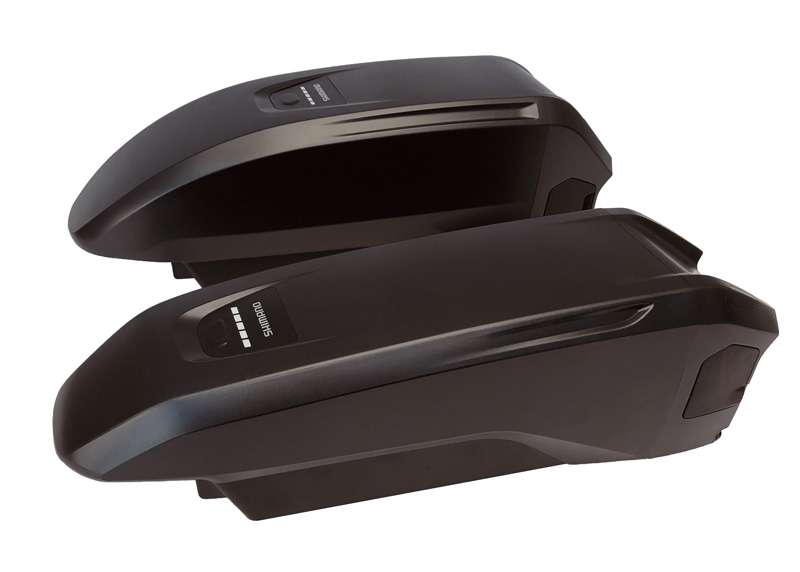 HUSK-E EP8 | 504 Wh and 630 Wh rechargeable batteries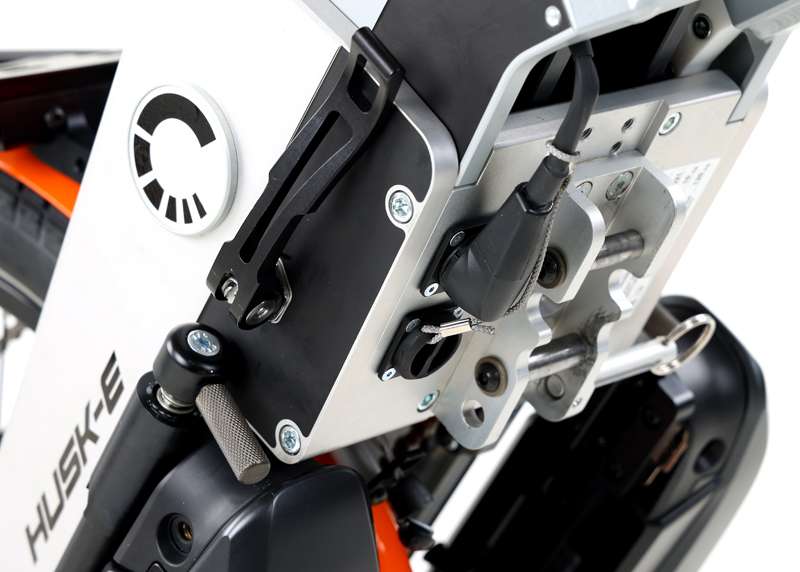 Change-over device for double rechargeable batteries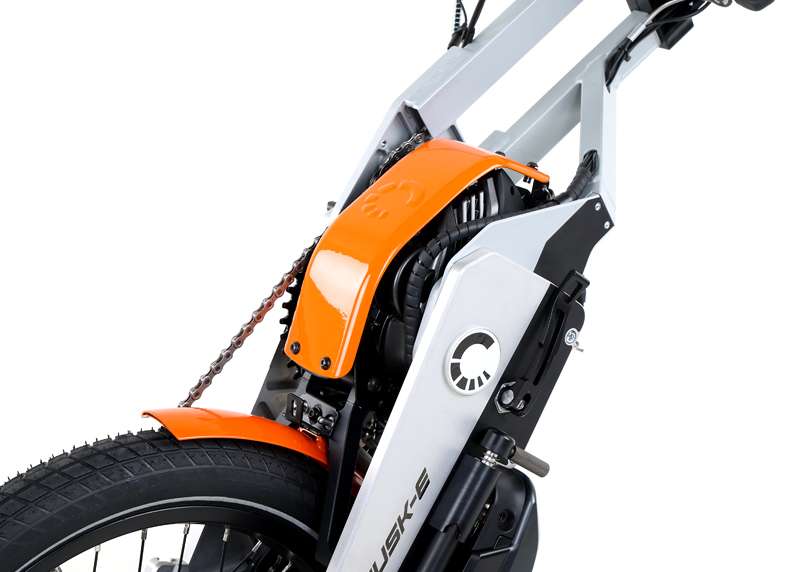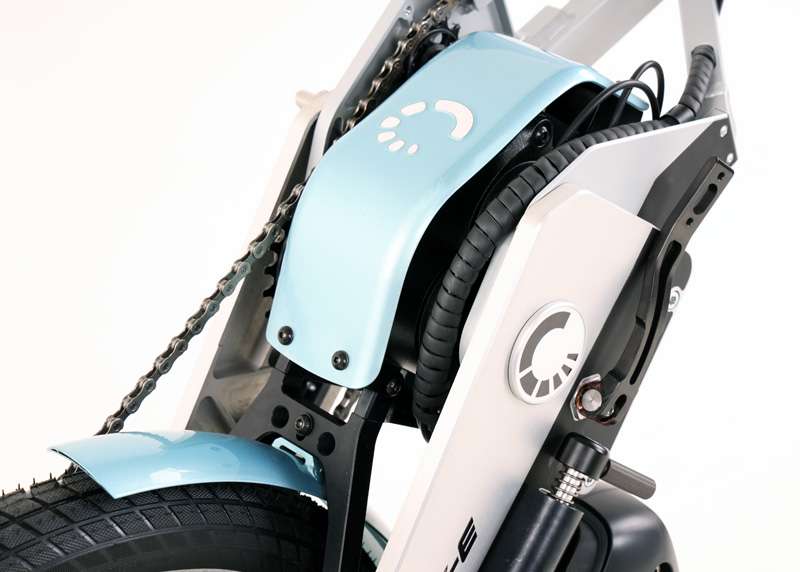 HUSK-E Neodrives | Pinion Gear shift cover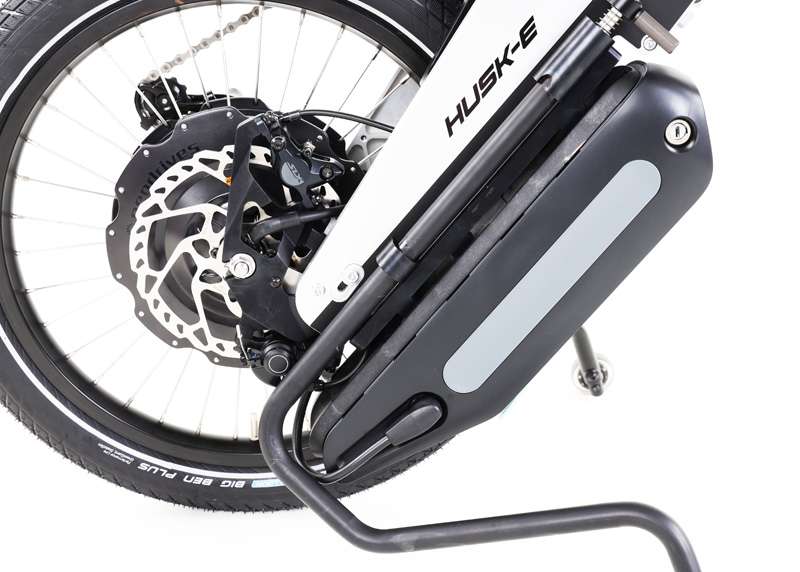 HUSK-E Neodrives | Battery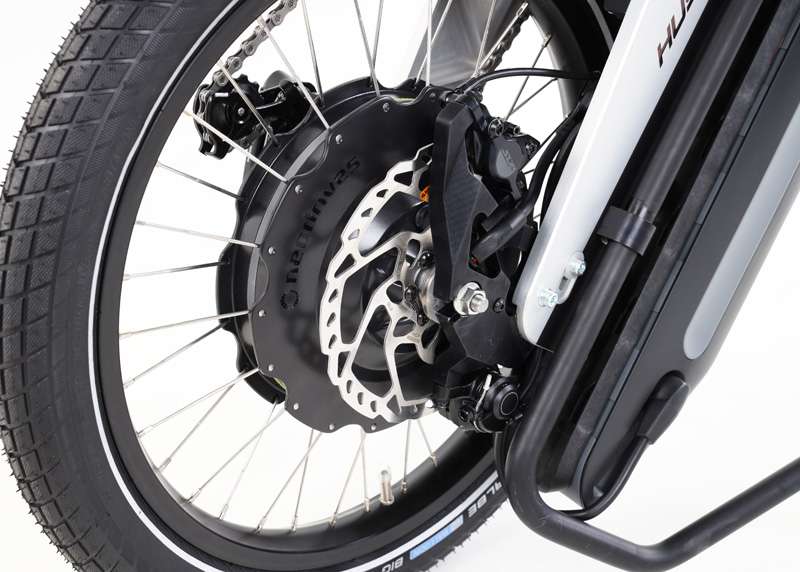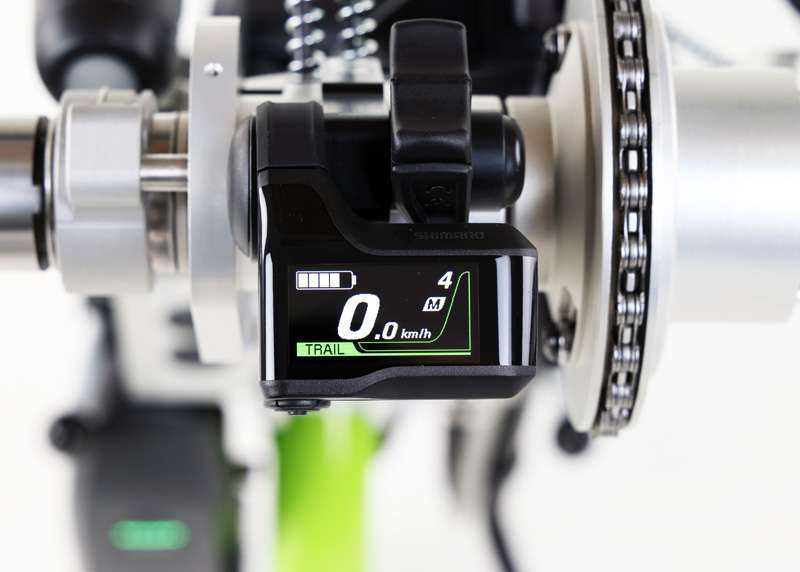 HUSK-E EP8 | EP8 colour display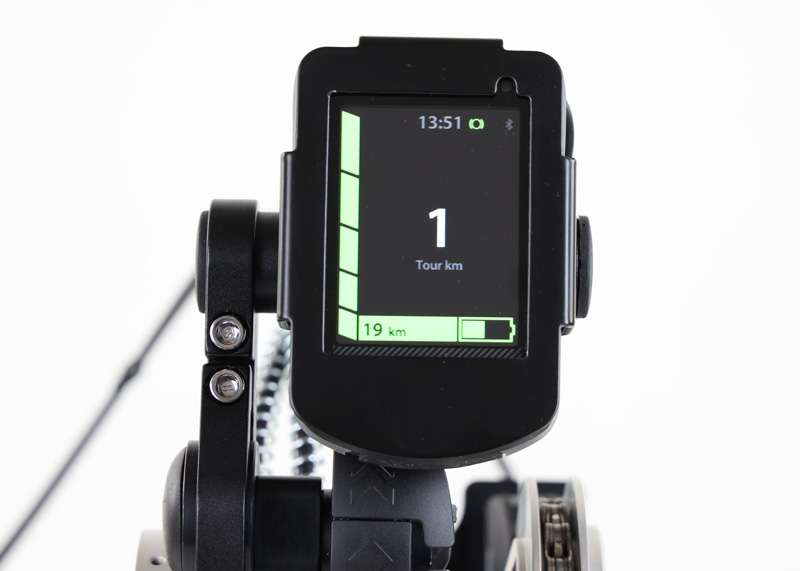 HUSK-E Neodrives | Colour display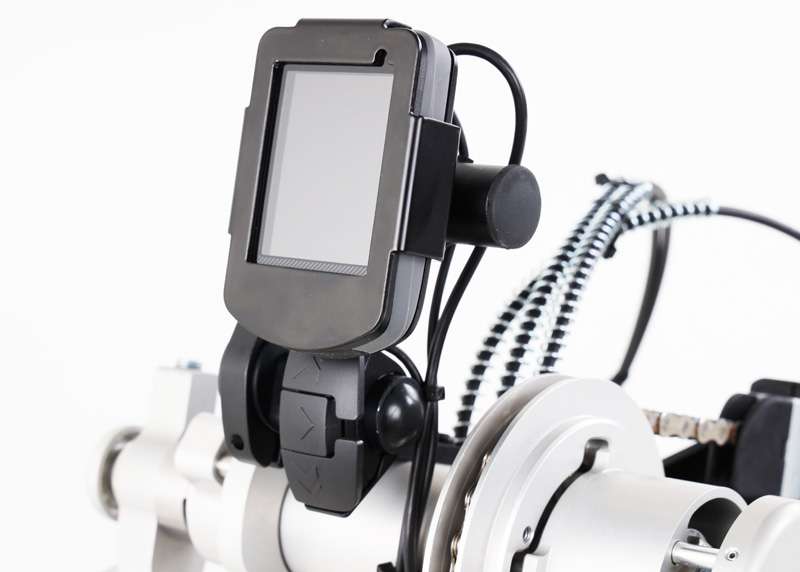 HUSK-E Neodrives | Colour display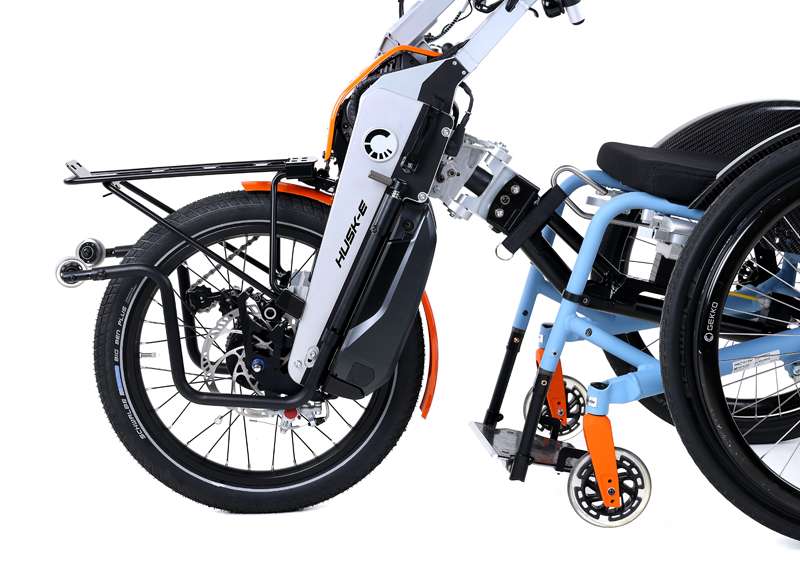 Parking stand, folded away to save space while in motion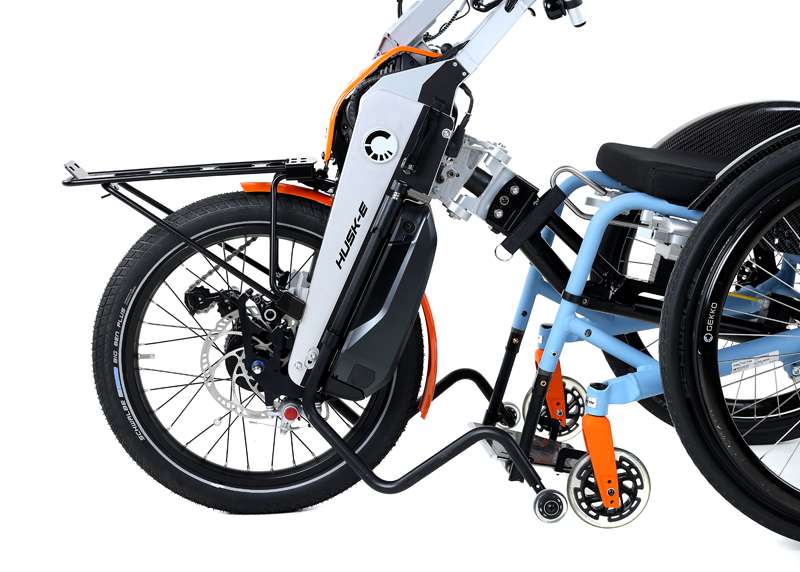 Parking stand in active position, ready for disconnection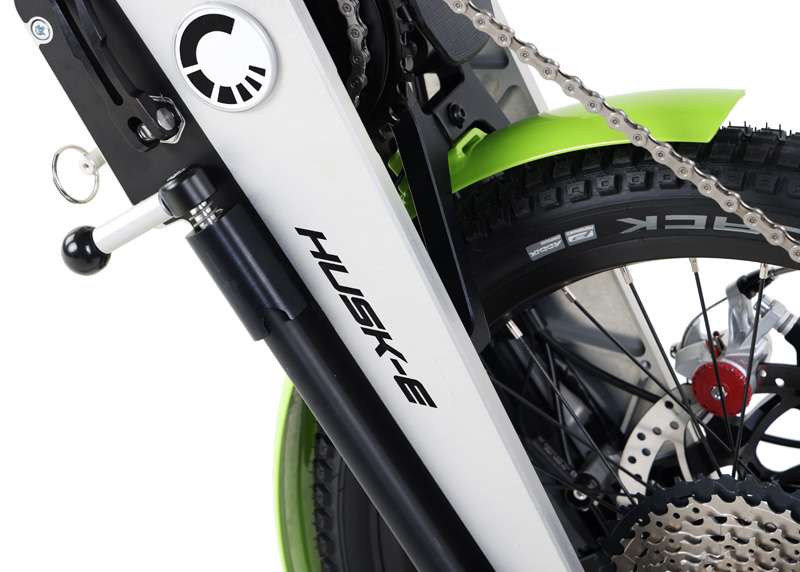 Tetra control lever for parking stand for simple operation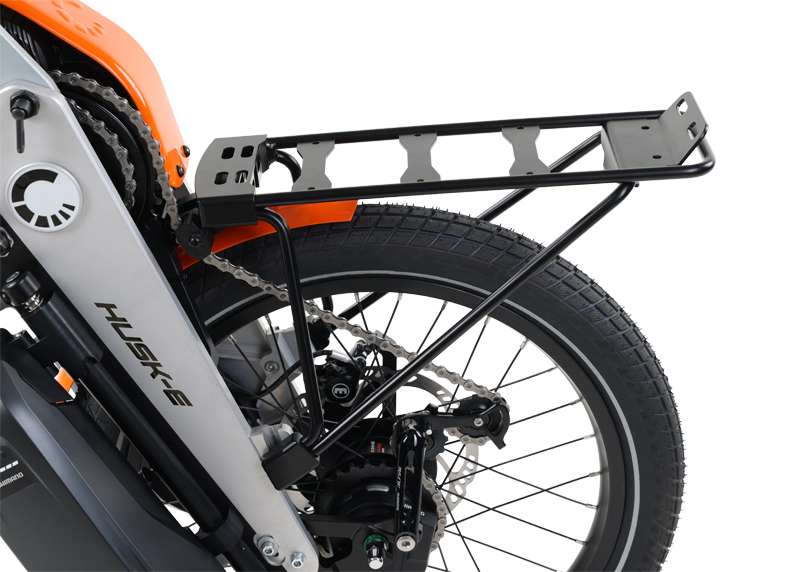 Removing & attaching the luggage rack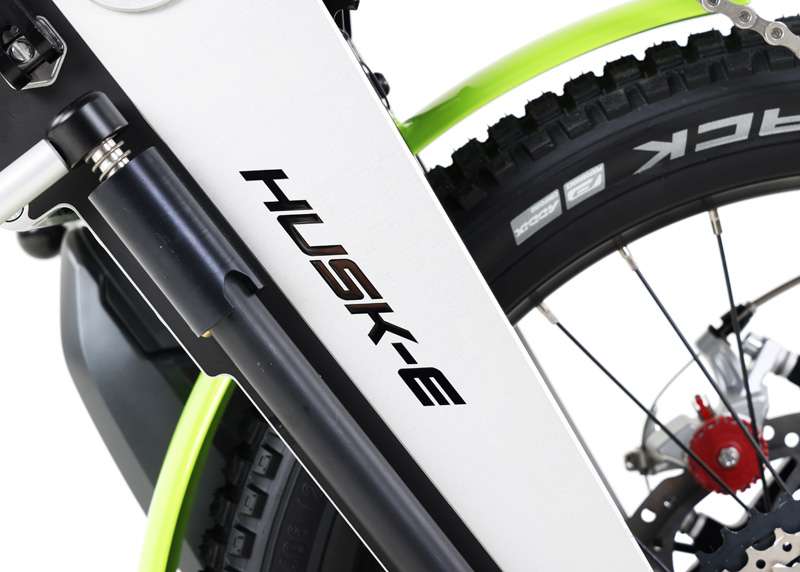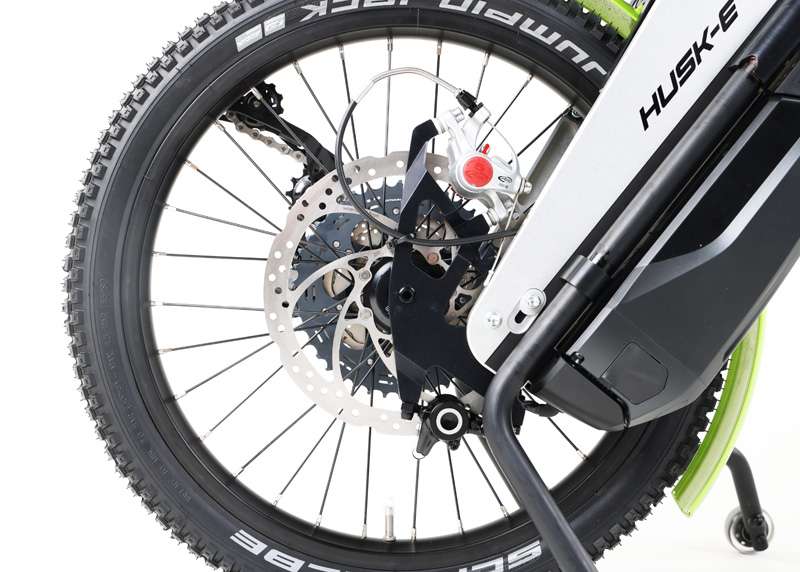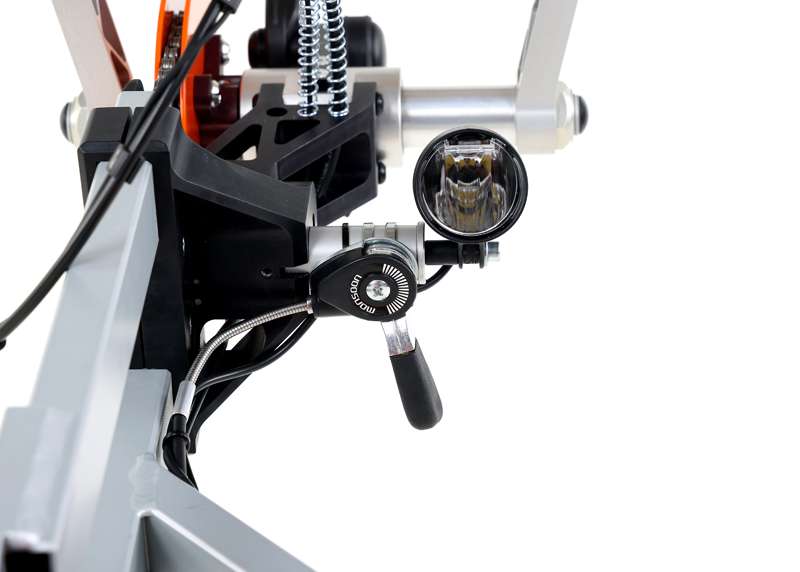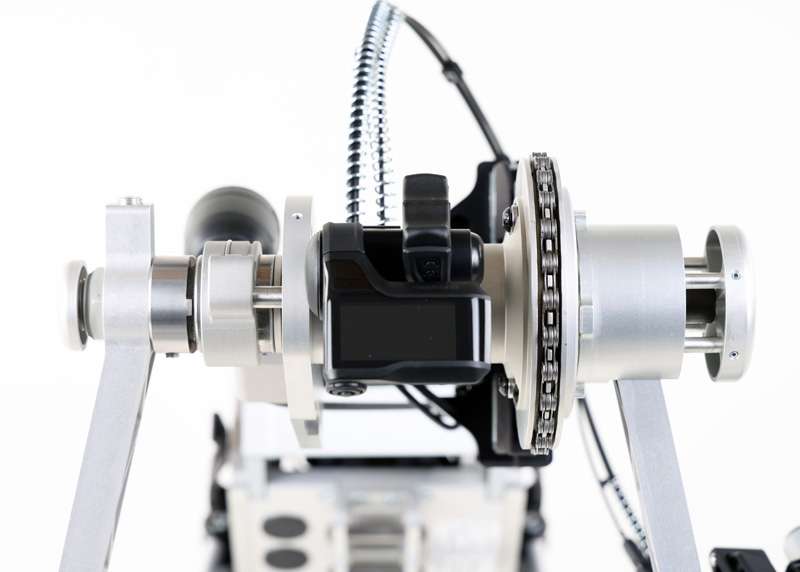 Back-pedal brake with crank release function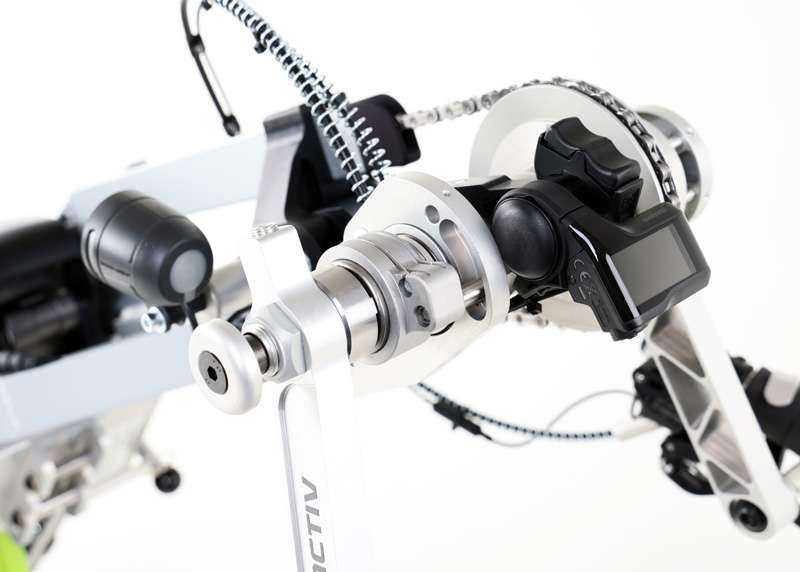 Back-pedal brake with crank release function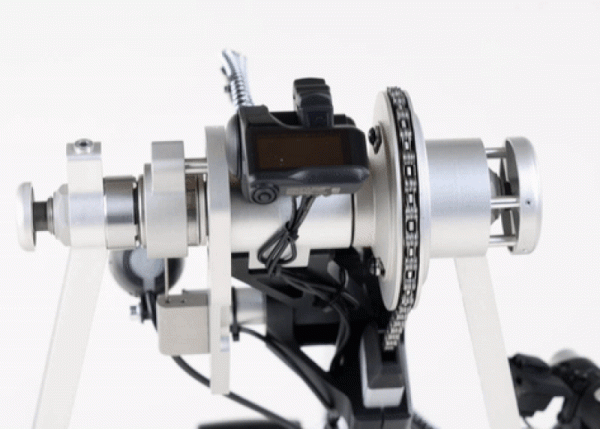 Activating the back-pedal brake
Operating the back-pedal disk brake and crank release function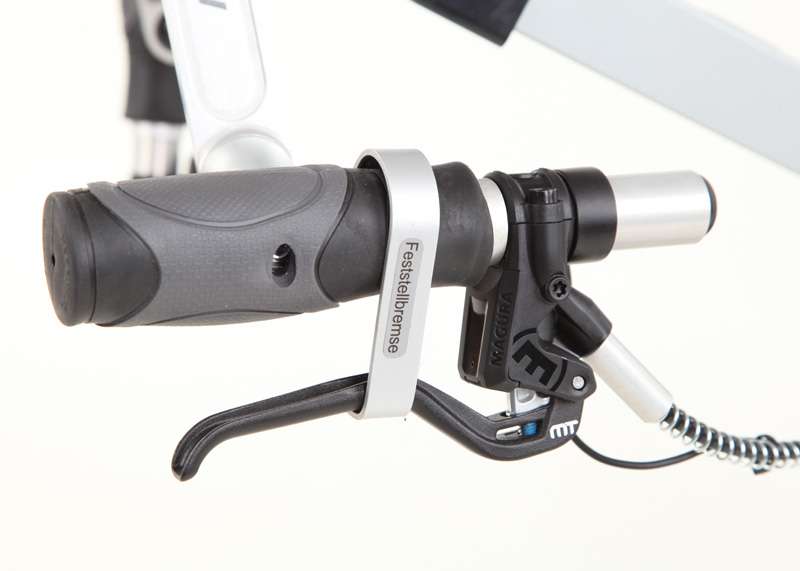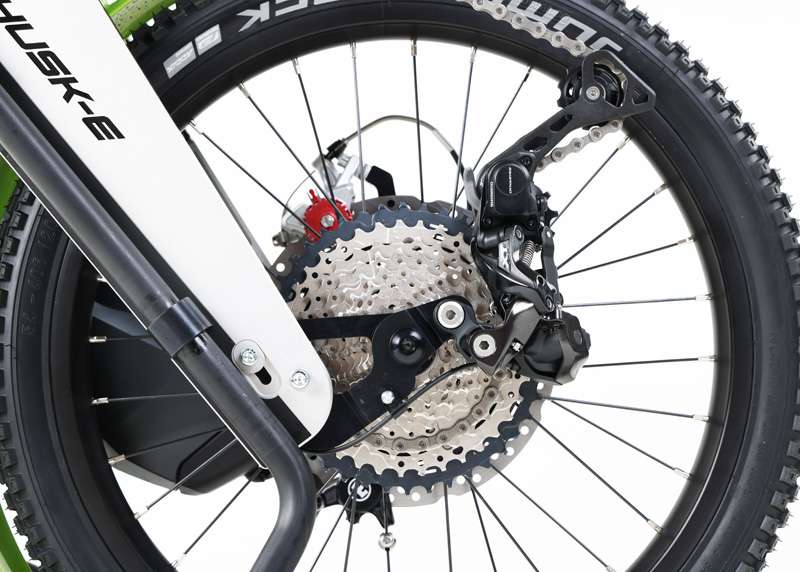 HUSK-E EP8 | Dérailleur with 11 gears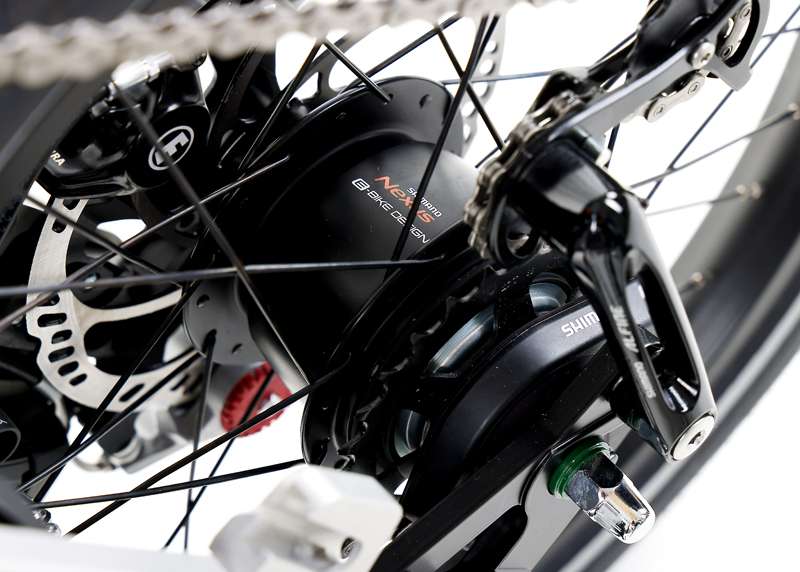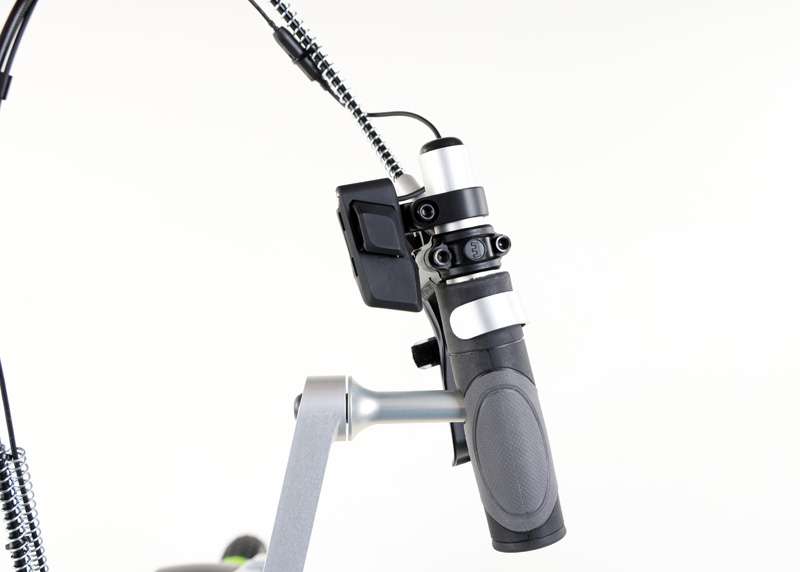 Dérailleur with 11 gears with Di2 control button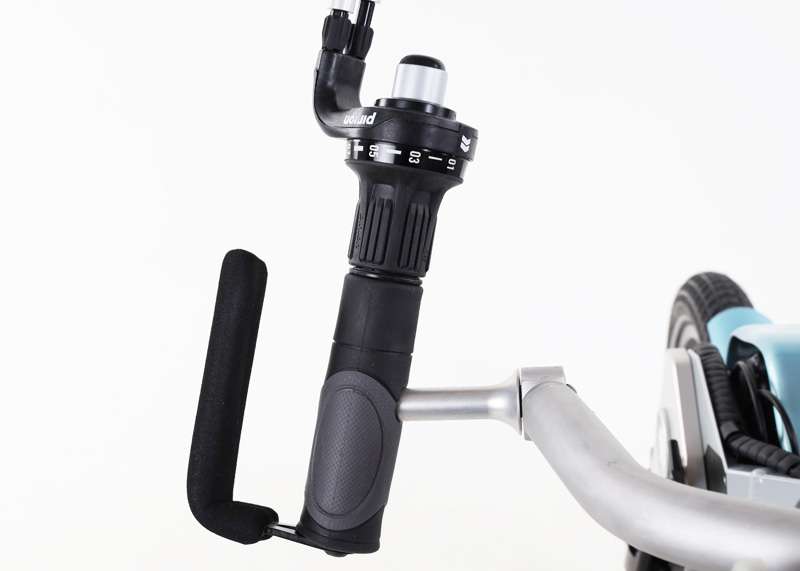 HUSK-E Neodrives | Pinion Gear shift twist grip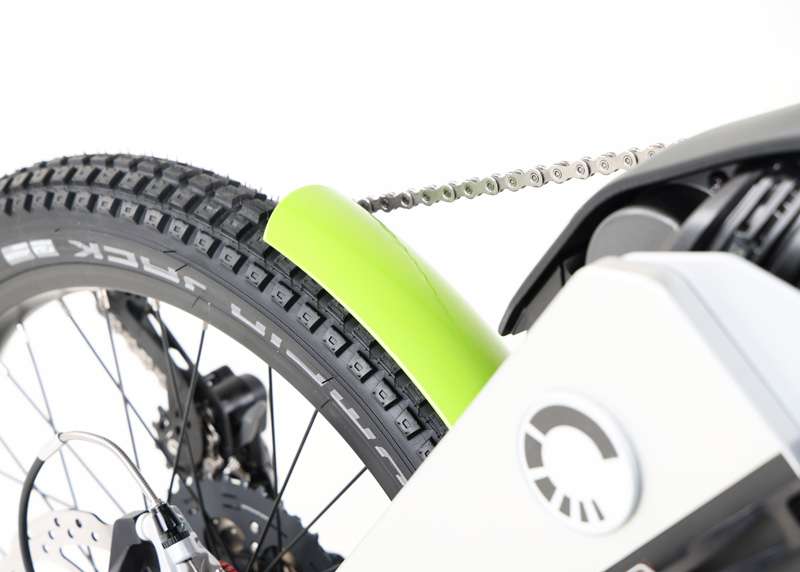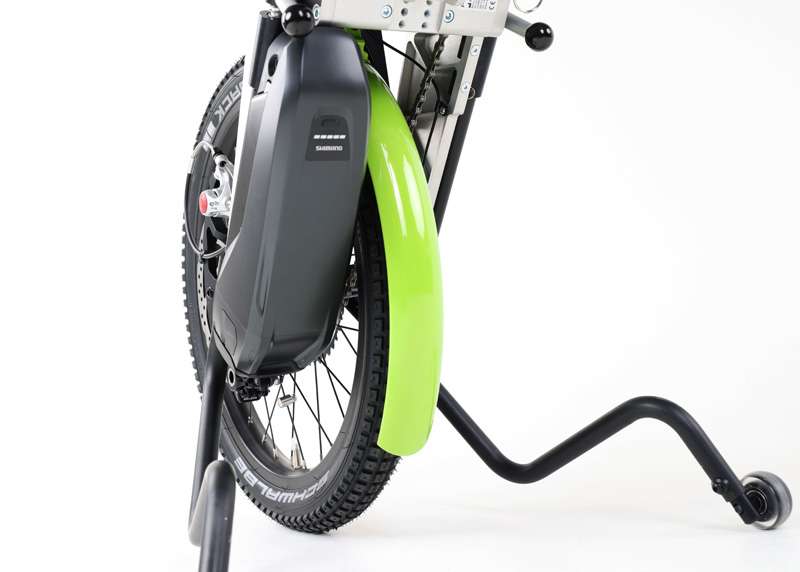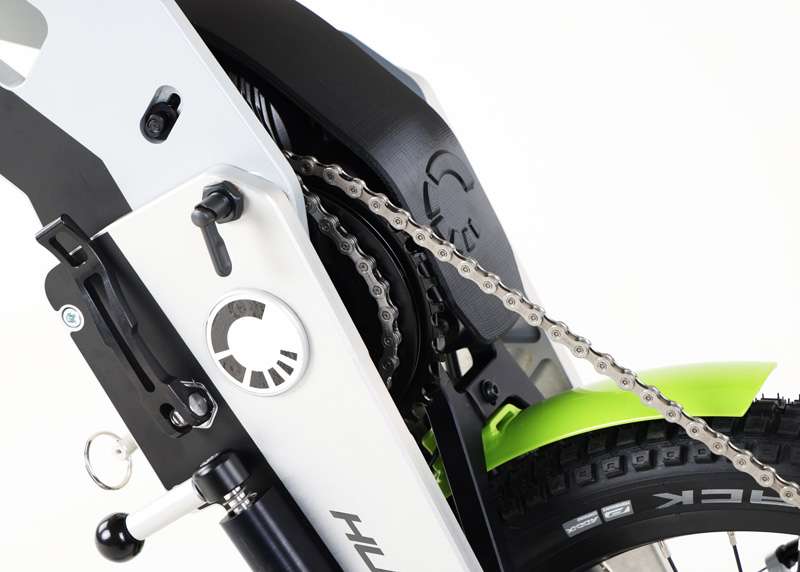 Bottom bracket support, adjustable angle and folds away for a small pack size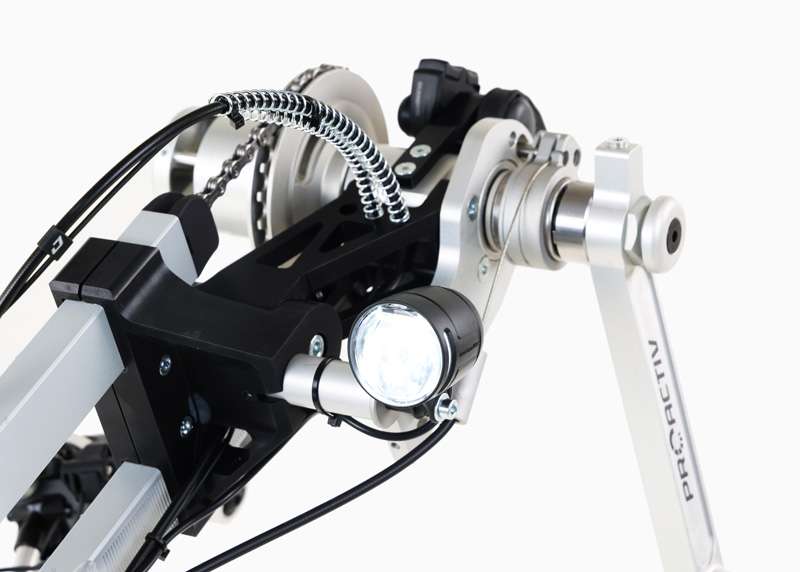 Rechargeable battery-operated LED light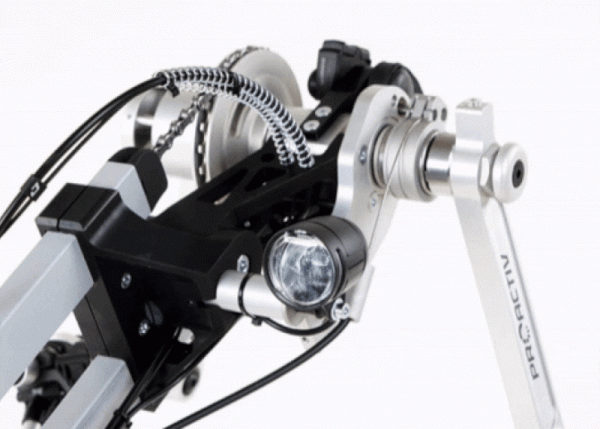 Switching on the LED light
Presentation of the HUSK-E by behindert-barrierefrei e.V. from 2019; the EP8 drive with a torque of 85 Nm and the Neodrives drive system are new (was not available in 2019)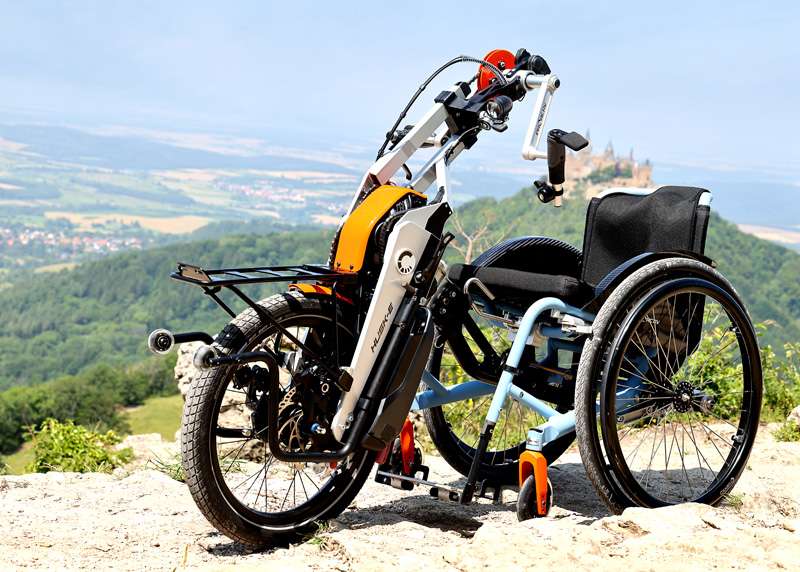 HUSK-E EP8 combined with Speedy F2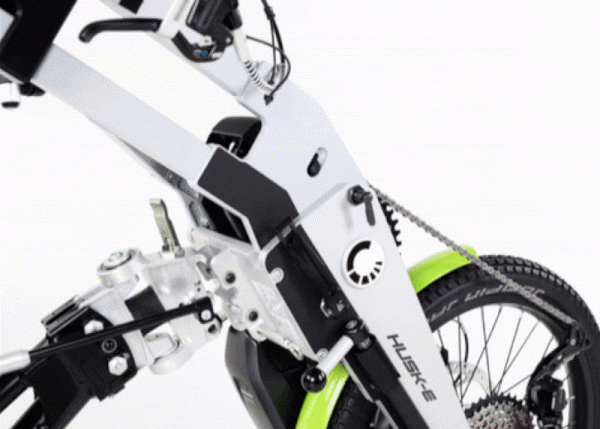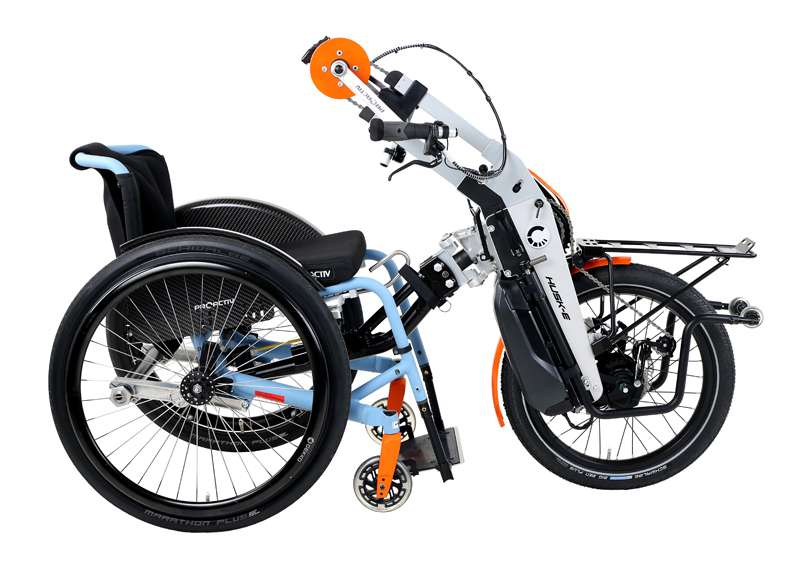 HUSK-E EP8 combined with Speedy F2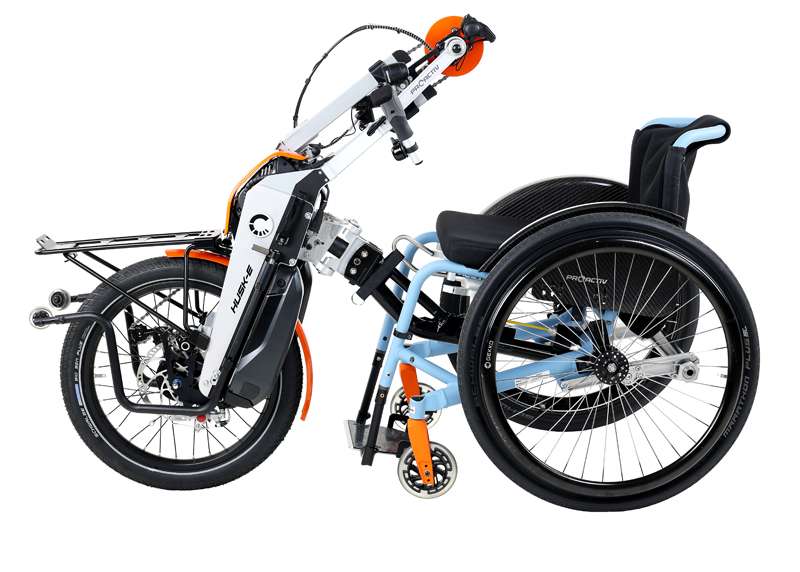 HUSK-E EP8 combined with Speedy F2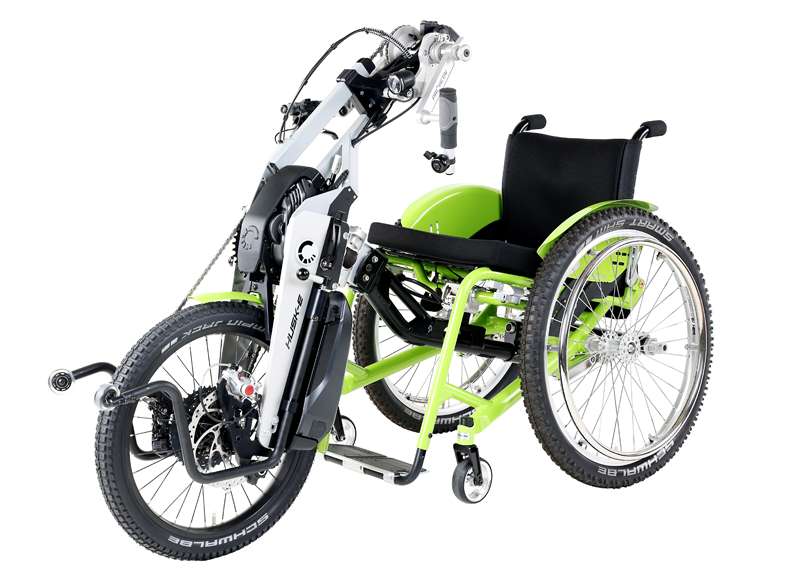 HUSK-E EP8 combined with Speedy F2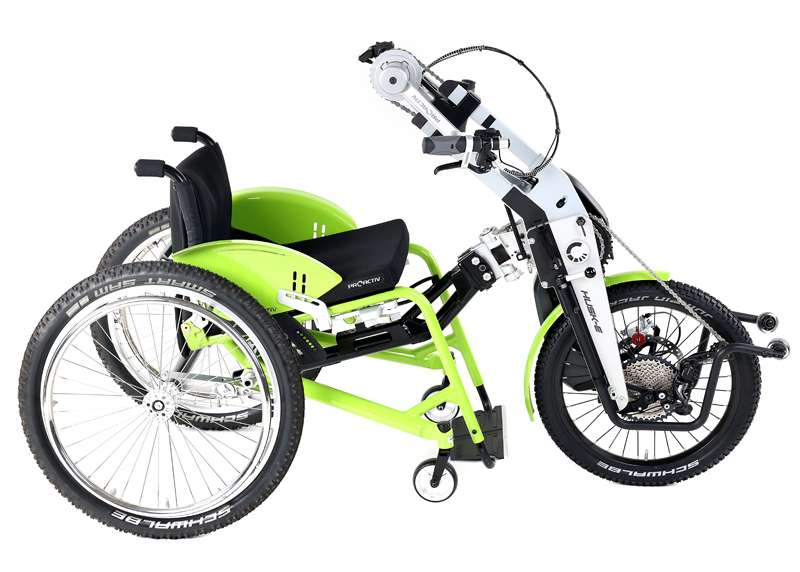 HUSK-E EP8 combined with Speedy F2, wheel in wheelbase extension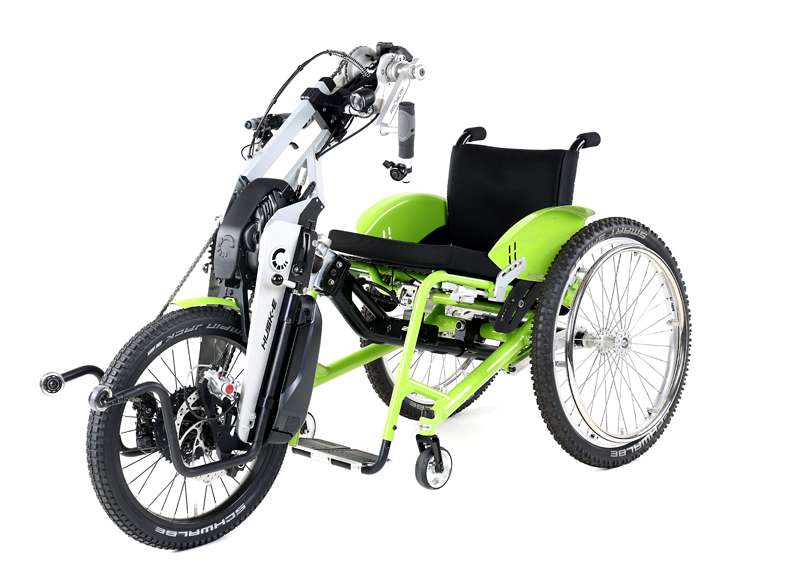 HUSK-E EP8 combined with Speedy F2, wheel in wheelbase extension
Adapting and removing the central adapter from the wheelchair, example: SPEEDY 4all Ergo
Video on adapting and disconnecting the HUSK-E from the wheelchair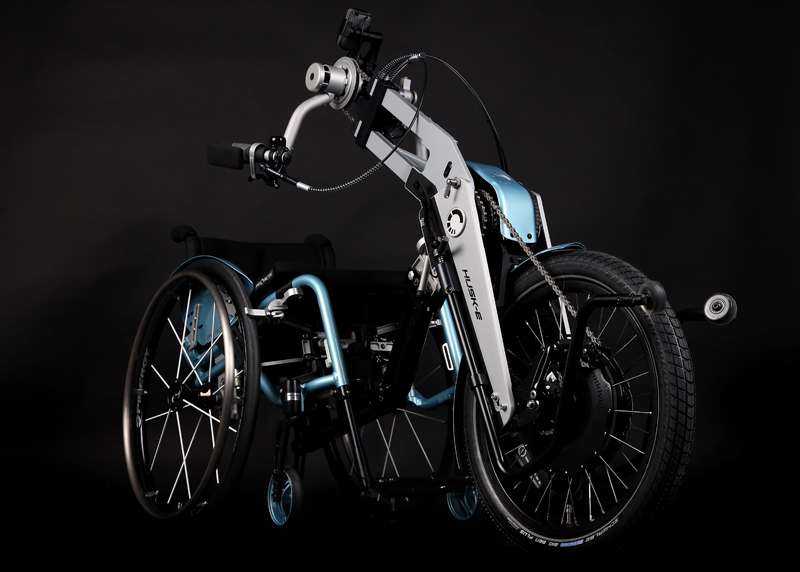 HUSK-E Neodrives | Pinion Gear shift | with TRAVELER 4you Ergo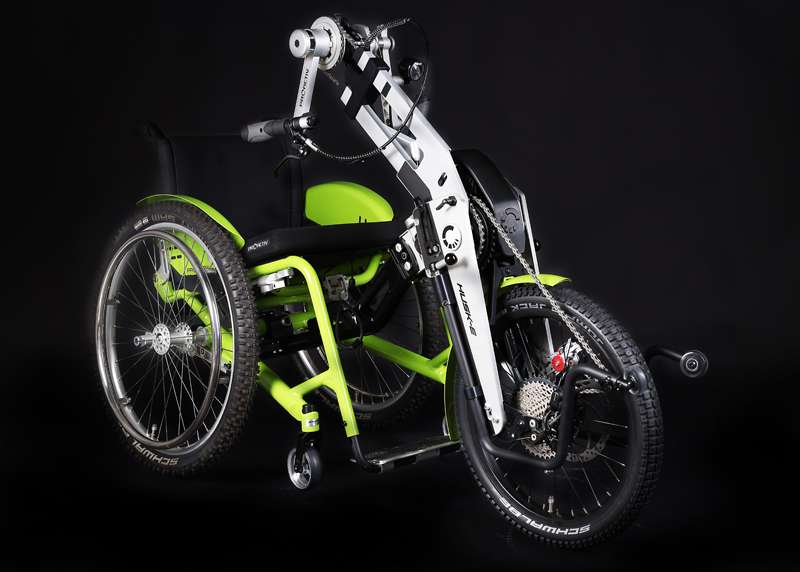 HUSK-E EP8 combined with Speedy F2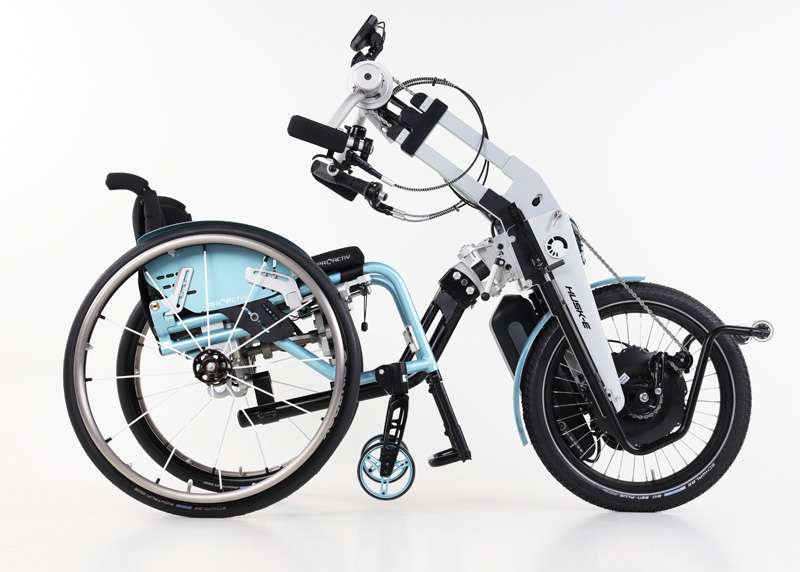 HUSK-E Neodrives | Pinion Gear shift | with TRAVELER 4you Ergo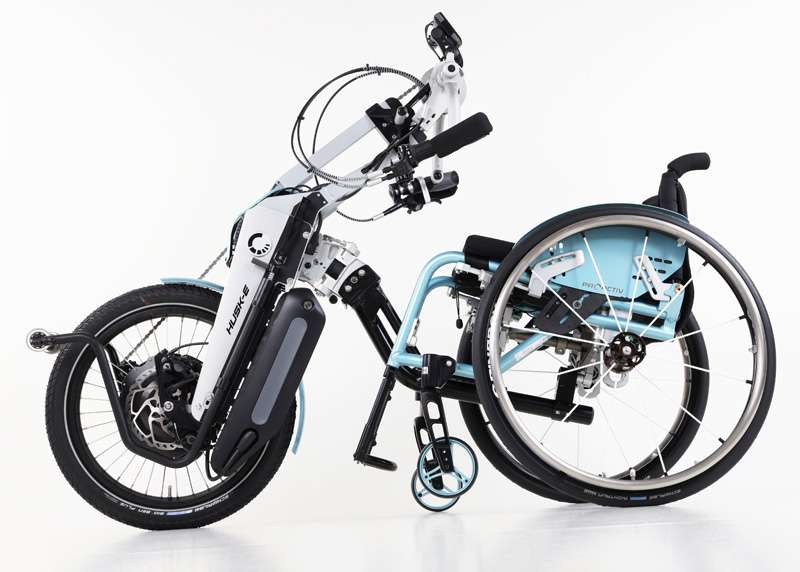 HUSK-E Neodrives | Pinion Gear shift | with TRAVELER 4you Ergo
HUSK-E adaptive bike
The HUSK-E is the first handbike that allows the bottom bracket support to be adjusted and folded down, thus facilitating transport thanks to the small pack size.

The HUSK-E is equipped with a 20" wheel and can be used on public roads in Germany without the need for insurance or permits under the Pedelec Regulations.

When pedalling, the drive system supports the rider at the set support level with speeds of up to 25 km/h. This allows users to cover long distances faster and with less exertion. The HUSK-E is available in two model versions:

The HUSK-E EP8 is the powerful version with a torque of 85 Nm (Shimano EP8). This version is designed for uneven terrain and hilly topography.

The HUSK-E neodrives comfortable version offers an immediate response for users with limited strength. With 40 Nm torque, the adaptive bike is ideal for touring on flat to hilly terrain (without long climbs).